It's Back! We are proud to announce that the Glow Back to School 5K race is returning to the Stillwater Area Community Center.
When: Friday September 16, 2016 at 7:00pm
Where: 19 Palmer Street, Stillwater, NY 12170
How do I register? Registration Form is available Here or at Active.com
Pre-Register: $30; Register at the Event:$35
Join us as we sprint back into the school year with The Stillwater Area Community Center's Annual Glow Back to School 5K. Awards will be presented to the overall top three male and female finishers and first place in each category. The race will begin and end at The Stillwater Area Community Center. The first 75 registered runners will receive Glow in the Dark T-Shirts. And for every school supply item runners donate they will be given a glow bracelet or necklace to wear in the race.
Any Questions: Contact Justin Macfarlane at (518)664-2515 x10 or saccassistantdirector@gmail.com

The Cast List is Here!!!
Click on the link below to view our Cast List.
Please respond via email at saccassistantdirector@gmail.com to accept your role. Congratulations to all that came out for our production.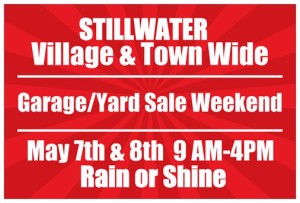 Stillwater Village/Town Wide Garage Sales will be held on  Saturday,May 7 and Sunday, May 8 from 9 AM-4 PM.  There will be residents conducting sales on their property.  Watch for signs.  In addition to the residents sales we will be having vendors set up on The Blockhouse lawn that includes Primitive Country Crafts, jewelry, pocketbooks, flea market type items, SACC will be selling food and Stillwater Senior Time will be having a bake sale. Rain or Shine! For questions call Judy @ 664-2008.
We wanted to say THANK YOU to everyone who either bought a wine pull ticket, bought a raffle ticket or even bought a drink at the bar!!! You made our night so much more than we could have imagined for our 2nd year in hosting a Wine Pull.
We also wanted to thank our sponsors and those businesses who so generously donated their goods or services- you make us GREAT!!!
Ballston Spa National Bank
Toyota of Clifton Park
Hyatt Place Malta
Wine and Spirits of Slingerlands
Malta Wine and Liquor
DeCrescente Distributing
Alpine Construction
Damn Good Beef Jerky
Del's Wine and Spirits
Park Avenue Confectionary
The Ripe Tomato
Kristen Knapp- Panache
Mackenzie Sheehy- Artisitc Hair Design
Carson's Woodside Grille
DeVoe's Orchard
Sara Kipp
Knapp Insurance
Recovery Room- Malta
The End Zone Restaurant and Pub
Nanola
Mechanicville Country Living Center
Vinny's Barbershop
Wired Coffee and Bagel
Southern Distributing
Studio 8
Elin Cary Massage/Yoga
Joe Zaffino
Chris Dunn
The Sweet Flour Catering and Baking
Saratoga Sound DJ
SACC Board of Directors
SACC Staff
Please patron the above businesses to show your appreciation of their generosity!
Stillwater Senior Time will be held on Friday, March 25th at The Stillwater Area Community Center from 11:00 AM-2:00 PM.  We will be celebrating Easter. Please join us for an afternoon of fun.  BINGO, a light meatless lunch with delicious desserts, games and a Spring craft. As always a food donation for our food pantry is always appreciated. If you have any questions, call Judy at 664-2008.  This program is sponsored by the Village and Town of Stillwater.
This month's Board of Director's Meeting is rescheduled for Wednesday, March 16th.
Beginning in April, the regular monthly Board of Director's Meeting will be moved and held on the 3rd Tuesday of every month. Tuesday April 19th will be the first instance of the new schedule.
The 2nd Annual Wine Pull has been planned for Friday, April 15th from 6:30-9pm.
This annual fundraiser will boast cocktail hors d'oeuvres, live entertainment, raffles, and each person goes home with a bottle of wine! This is a 21+ event.
Tickets are available for $20 for General Admission and $25 for General Admission PLUS a grand prize* entry
*Grand Prize TBD
For more information or to buy tickets, please call 664-2515 ext 10 or 23. You can also email saccassistantdirector@gmail.com or saccdirector@nycap.rr.com for more information.