Having a party?  Hosting a fundraiser? Need practice space?  Rent a classroom or gym here at SACC!!!
Check out our calendar to see if we have space the date(s) and time(s) you are interested in.
Just click the link below to download the form, and send it to us (email, FAX, regular mail) with your deposit and insurance certificate. 
Facility Request Form – Parties, Events, Fundraisers, Sports Teams, Clinics, Practice Space
Any questions please contact Aimee Salecker at (518)664-2515 x223 or email; saccdirector@nycap.rr.com
NEW!! RENT OUR BOUNCY HOUSE* FOR IN-HOUSE PARTIES!! 
*Our bounce house is best suited for children under age 7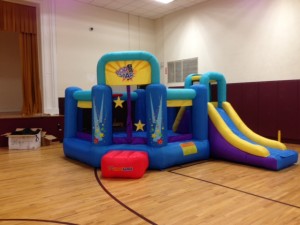 *Our bounce house is best suited for children under age 7